Kitchen Trend: Not-so-basic Black Glass-Ceramic Cooktops
Why is the black glass-ceramic cooktop a perennial favorite of designers and manufacturers? Black has an inherent elegance and simplicity. It feels modern and is easier to maintain. For 2019, black glass-ceramic cooktops are trending right along with the move towards dark, bold kitchen colors.
One of the biggest reasons for its popularity is that black glass-ceramic isn't just one color.
"Black is the ideal 'canvas' for a range of color accents within the cooktop surface," says Scott Watson, Marketing Manager at EuroKera. "More importantly, our ingenious material enables us to create nuanced shades of black, as well as textures and patterns. The designers shaping the new modern kitchen require materials like ours that offer versatility."
2019 Kitchen Trends
"Moodier" hues
Open-plan kitchen designs with discrete work zones
Integrated electronic displays
Here are some of the kitchen trends for 2019. The black glass-ceramic cooktop fits beautifully into every scenario.
Choices in trending kitchen colors range from dark, bold colors, such as navy, hunter green, dark purples, and terracottas to natural neutrals, woods, and copper. Vibrant gold and orange, and yellow are also seen as coming on strong.
Paired with vibrant hues, a black glass ceramic surface such as KeraBlack® Plus delivers major impact (it can handle impact, too). EuroKera adds layers of black-on-black shaded ceramic plus bright color to cooking hob designs.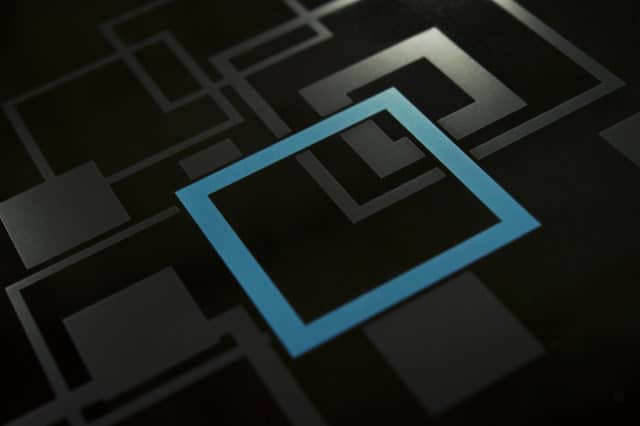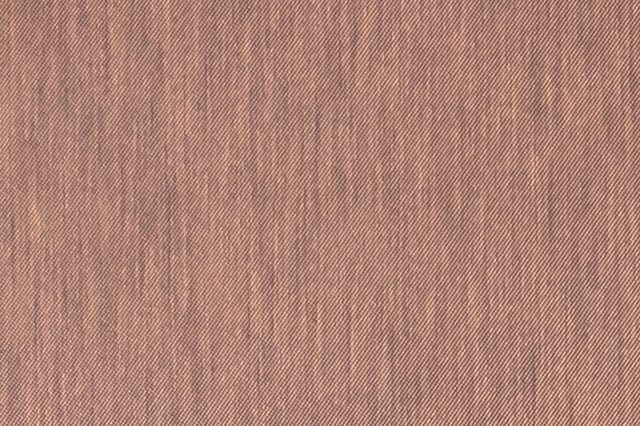 You may be surprised to learn that EuroKera's extraordinary glass-ceramic material is shapeable.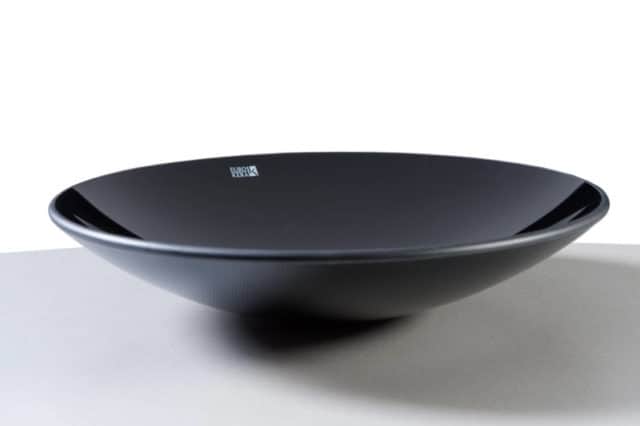 "Sticking with the trend [toward dark, bold colors], dark coloring is finding its way to countertops as well. In fact, darker than dark: black!" That's according to a recent blog by Modiani Kitchens.
Black cabinetry has been on the upswing with professional designers.  Not ready to go that far? The contrast of strong color with black glass-ceramic in the kitchen below offers visual appeal and easy care.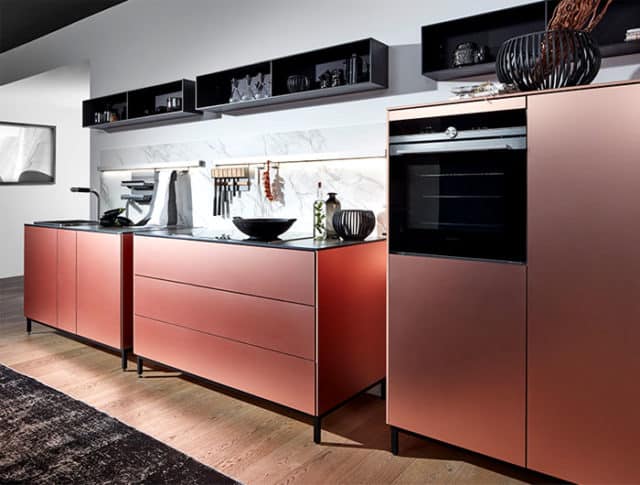 In this kitchen design by Bondi, the dark countertops make a seamless transition into the light wooden cabinetry and structures: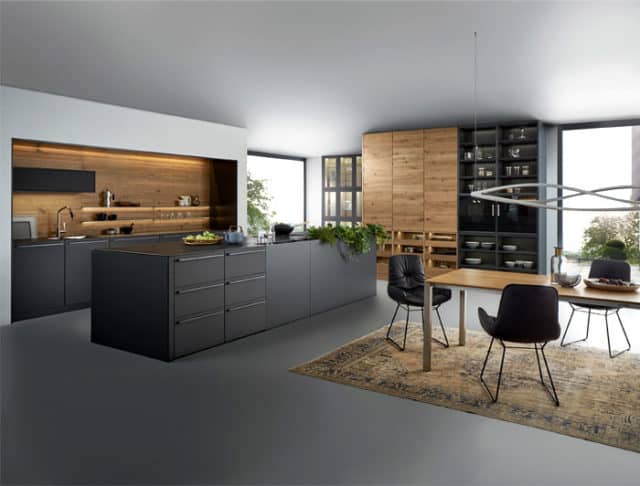 EuroKera's proprietary material can take on the appearance of natural stone while providing the strength and durability of glass-ceramic.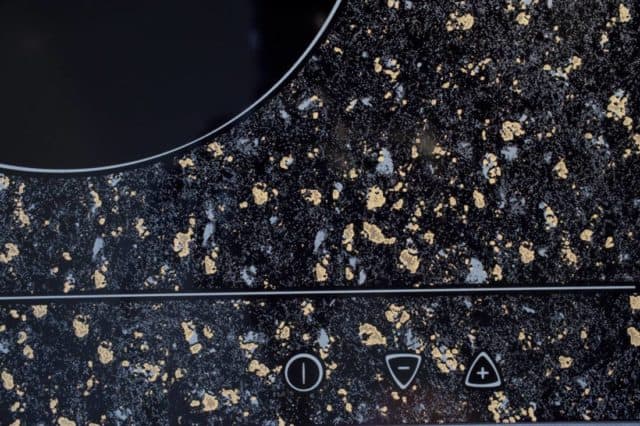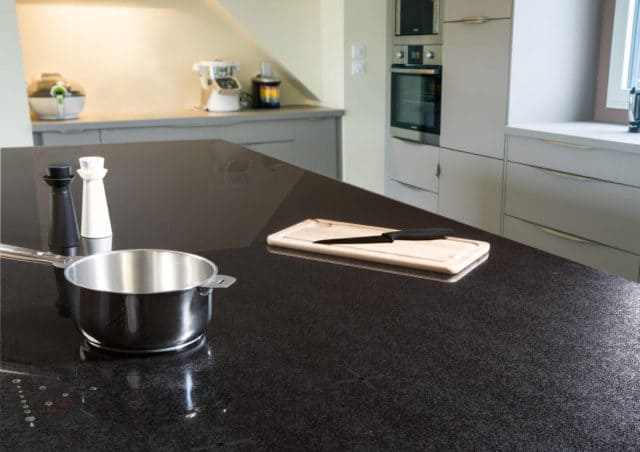 While white-on-white kitchens never seem to go out of style, black accents can quickly update the look. A black glass-ceramic cooktop helps make the transition to a fresh, new style for this black-and-white kitchen.
"Black feels fresh as a crisp accent color in light-colored kitchens, and black finishes are a way to add some drama without fully darkening your kitchen," says New York interior designer Carolyn Pressly of Carolyn Pressly Interiors. "Matte black will continue to be a predominant finish for kitchen fixtures, hardware accents, and even millwork profile details."
Sleek, open-plan kitchens are replacing the traditional hard boundaries of earlier kitchens.
In Europe and Asia, many kitchens are compact, creating demand for appliances that use space more creatively and efficiently. The Kitchen Think, based in the U.K., reports that the world's leading trade show for home appliances and consumer electronics, IFA 2018, highlighted new ways to combine craftsmanship, technology and convenience.
"At EuroKera, we are continuously pushing the design possibilities for glass-ceramic cooktops. Our new large-format, multi-use kitchen innovation called Versâtis™ is a true disrupter," says Scott Watson. "It is the first successful integration of smart tech appliances and into one seamless glass-ceramic countertop. Its potential is limitless."

The "hidden kitchen"was a continuing trend at EuroCucina and FTK Technology for the Kitchen this year, where the lines between working zones seem to disappear. A black glass-ceramic cooktop can either blend into or break up the flow of a countertop.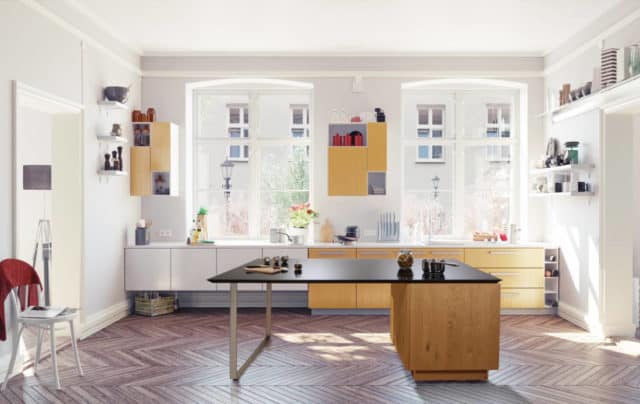 "Designers and manufacturers are drawn to our exclusive enamel colors like Shadow Black and Cast Iron," says Scott Watson. "The one-of-a-kind KeraSlate™ glass-ceramic substrate is a EuroKera exclusivity that widens the possibilities for designers all over the world."
EuroKera black glass-ceramic is also designed to withstand the day-to-day workload of high cooking temperatures and rapid cooling, without losing its luminous finish.

As peoples' lives become busier, the boundaries soften between kitchen and other living spaces. Kitchens where people can flow in and out for food preparation, meals, and social activities feel more natural in the modern home.
There's no denying the smart-kitchen trend.
In the connected kitchen, you will be able to use voice-enabled technology, such as Google Assistant, to ask your hob to start cooking. You'll open apps for nutrition information, recipes, your shopping list, cooking videos on virtually any surface on the countertop. KeraResin®, KeraVision® and KeraSpectrum® by EuroKera are the perfect canvas for connected appliances.
It also resists scratches and stains – easy to see why we think it's the perfect material for a user interface. Whether an image is projected onto the surface or integrated into the surface as a display, black glass-ceramic is the high-performance choice.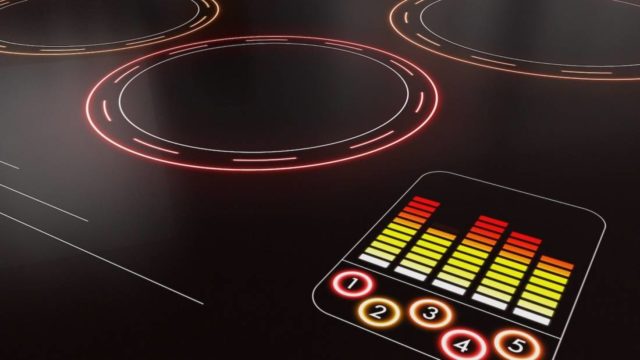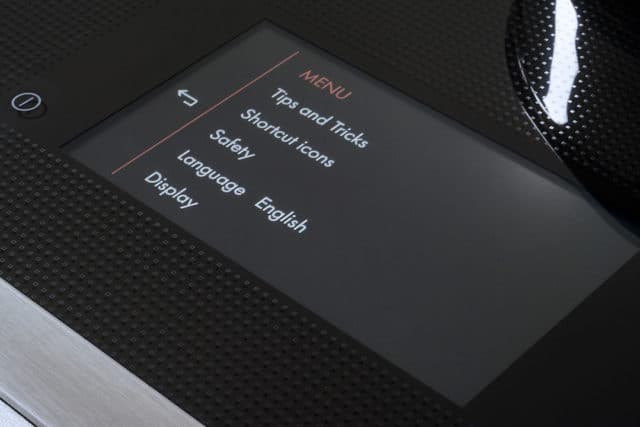 The basic black cooktop is a bit like the little black dress: it's all about what it can do for you. For inspiration and ideas, visit our Design Gallery, our Enamel page and contact us with any questions.
Learn more about EuroKera's black glass-ceramic substrates and other solutions by clicking here.