Have you ever wondered who came up with the idea for glass-ceramic? From glass-ceramic cooktops and fireplace screens to the glass used for cell phones and the Space Shuttle's tiles, glass-ceramics in various forms are used every day, around the world and beyond. Hard to imagine life without it.
We love to share the story about the discovery of glass-ceramic. That is partly because it took place at one of the companies, Corning Glass Works, that along with Saint-Gobain, would later form EuroKera. But it's also a story that, like so many other scientific breakthroughs, appeared to be more of a disaster than a success at first.
"Find an economical way to drill a million holes in a piece of glass!"
That was the challenge from the research director to his team of chemists at Corning in New York in the late 1940s. They were hoping to find a new technology for use in color TVs: a glass aperture "mask" with tiny holes that could guide the electron beams.
One of the chemists on the research team, Dr. Stanley Donald Stookey, went to work on an innovative idea, and devised a new glass named FOTOFORM®. This new material could be etched with chemicals, creating designs and grooves – and holes, where the pattern dissolved completely. FOTOFORM didn't make it into color TV aperture masks (the industry adopted metal instead). But the new "photochemically machinable" glass, as Dr. Stookey describes it, was a game-changer that lead to the discovery of glass-ceramic, and eventually, to the development of glass-ceramic cooktops.
S. Donald Stookey, Inventor of Glass-Ceramic
Dr. Stookey stumbled across the discovery of glass-ceramic, perhaps proving the old saying, "there are no accidents." Later developed for use in cookware, telescopes, handheld electronics, and glass-ceramic cooktops, here's how glass-ceramic became the hot new material.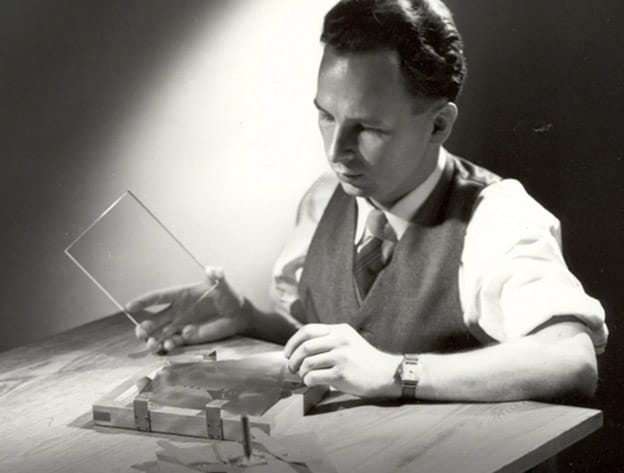 "Damn it, I've ruined the furnace!"
Dr. Stookey planned to study a heat-treated piece of FOTOFORM glass. He set the laboratory oven at 600° C. and put the plate inside. Unfortunately, the oven heated to 900° C. (FOTOFORM would supposedly melt at 700° C.)! Alarmed, Stookey grabbed a pair of tongs and pulled the glass out of the furnace. The hot plate fell from the tongs.
"Expecting to find a melted mass, Stookey observed a dense white crystalline ceramic of apparently identical shape as the original glass sample. On accidentally dropping this plate on the floor, he heard a metallic sound and observed that the plate remained intact."
G. H. Beall, Milestones in Glass-Ceramics: A Personal Perspective
In a quote from his autobiography, "Explorations in Glass", Dr. Stookey writes, "…this was not glass, but something new and different…much stronger than ordinary glass."
He had discovered that glass could be converted to a fine-grained ceramic simply by heating, and it would retain its shape. The new material was also harder than carbon steel and lighter than aluminum – glass ceramic.
After further development, Corning patented the new glass-ceramic material under the name PYROCERAM®, which:
Withstood heating with a blow torch followed by an ice water bath without breaking or bending,
Was uniform, nonporous and stronger than the original glass,
Led to the production of CorningWare®, cookware/serving dishes that could go from a hot oven to the refrigerator without breaking.
The Counter That Cooks®
In the late 1960s, the forerunner of EuroKera (Corning), introduced the concept of cooking on a smooth white glass-ceramic surface, with coils and an insulating gap underneath. In the 1970s, Corning France introduced a line of transparent cookware.
In 1990, Corning joined one of the world's largest companies, Saint-Gobain, in a joint venture to manufacture glass-ceramic cooking surfaces. That company is EuroKera.
Hundreds of Millions of Glass-Ceramic Cooktops
EuroKera has gone on to produce millions of glass-ceramic panels for residential and commercial cooking hobs. Our panels are preferred by global cooktop manufacturers for their outstanding thermal resistance, mechanical strength, design possibilities and functional innovation. Keralite®, our sister product, is a fully code compliant UL-listed fire protective glass-ceramic – the superior choice for fire windows and fireplaces.
Dr. Stookey passed away in 2014 at the age of 99. He was granted many awards and 60 patents during his lifetime, and was an advocate for supporting and rewarding pioneering researchers. Following his happy accident leading to the discovery of glass-ceramic, Stookey writes that he "could see glittering vistas in all directions." Luckily, he lived to see many of the ingenious products that are the legacy of the first glass-ceramic.
"Explorations in Glass" by S. Donald Stookey and George H. Beall is published by the American Ceramic Society.