How to Clean my Glass-Ceramic Stovetop – Expert Tips
Nothing looks or cooks better than a glass-ceramic cooktop, but what about cleaning?
How to clean a glass cooktop is a question asked by cooktop shoppers and new cooktop owners, as well as experienced cooktop users. How do you remove burned-on cooktop spills? Get rid of water spots? Does anything work for stubborn stains?
Here are the basics for easy, fast and safe cooktop cleanup, along with some advanced tricks and tips you may not know.
Cooktop cleaning basics
Clean as you go and don't let it go. Glass cooktops require no maintenance other than daily cleaning. A cooktop surface made with EuroKera glass-ceramic offers built-in strength and durability; all it needs is consistent care.
Before using your new cooktop, clean it with a glass-ceramic cooktopcleaner and polish. Be sure to read the cooktop manufacturer's appliance manual, too. The list of "what to avoid" using on your cooktop (types of cooking utensils and cleaning products) deserves extra attention!
Clean the surface when it is completely cool, except for removing sugar, syrup, tomato products, and milk. These should be removed immediately (more about that later).
Remove any pots, pans or utensils before you start cleaning.Anything that's still hot can potentially cause injuries.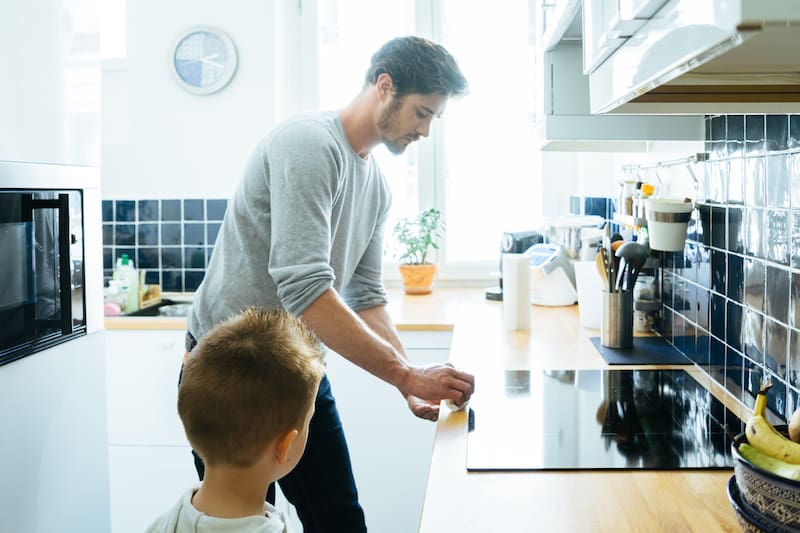 Daily cleaning and easy touch-ups
Allow the cooktop to cool completely.
Dilute a mild detergent, such as dishwashing liquid, with water. Spray the solution across the surface.
Use a soft, clean sponge or damp cloth to clean the cooktop.
Restore the cooktop's polished shine using a soft, dry cloth.
TIP: Lift pots and pans – don't slide across the surface. The bottom of the pan should be clean and dry before cooking.
Everyday cleaning with glass-ceramic cream or foam
Turn off the cooktop and let it cool.
Shake the bottle of glass cooktop cleaner well and apply a few drops directly to the cooktop.
Using a paper towel, a clean cloth (soft and non-abrasive) or a cleaning pad made for glass-ceramic cooktops, wipe the cleaner on the surface.
Remove the cleaner using a damp, clean sponge, cloth or paper towel.
Wipe off any excess cleaner with a dry towel and buff the surface to restore its luster.
TIP: Use white vinegar to remove water spots from a clean, cool cooktop.
Immediately clean food spills containing sugar, tomato sauces, syrups, and milk, or melted plastic and kitchen foil.
While the cooktop surface is still hot, remove the pan and turn off the heat.
Wear an oven mitt or use a potholder for safety.
Holding a metal razor scraper at a 45-degree angle, scrape away the residue while the surface is warm. The single-edge razor blade in the scraper should be clean and new.
TIP: For stubborn stains or streaks, on a cold cooktop, apply glass-ceramic cooktop cleaner to a soft, damp cloth and rub it into the area until the streak disappears. Wipe with a dampened cloth or sponge and dry thoroughly.
For simple touch-ups, spray a mixture of dishwashing liquid and water on the surface and clean with a damp cloth. Rub with a dry cloth and watch your cooktop shine.
EuroKera glass-ceramic makes cooktop cleaning so quick and easy, you'll have more time to enjoy cooking and entertaining. Bon appétit!
Click here for more information.