Gas or Induction Stovetop: the Winner is…
Nothing transforms a kitchen like a new glass-ceramic cooktop. The question is, which cooking method do you prefer? Gas or induction?
To help you decide which type of glass-ceramic cooktop is right for your kitchen, we put together this quick review of gas-on-glass-ceramic cooktops and glass-ceramic induction cooktops.
Regardless of the cooking method, today's glass-ceramic cooktops are highly engineered for refined heat control. A glass-ceramic cooktop conducts heat more evenly and precisely than any other cooking surface. Tests show that EuroKera glass-ceramic is also  highly heat- and scratch-resistant and virtually impervious to impact.
Let's start with a quick look at the key features of gas and induction cooktops:
Gas
Professional cooks have traditionally preferred gas hobs. Gas allows full control of the heat source, or flame, and immediate on/off response.   
Heat and temperature can be instantly adjusted
No special pots and pans required
Induction
Induction cooktops provide ultra-rapid heating and responsive temperature control. Cooks can adjust the heat based on the reaction of the food as it cooks and/or temperature readings.
Fastest heating of any cooking method
Safe – heat transfers to the pot, not the cooktop surface
Highly accurate temperature control
The way we prepare food goes beyond the science of cooking. A glass-ceramic induction cooktop combines a sophisticated appearance with responsive performance. A unique cool-to-the-touch surface adds a measure of kitchen safety that's especially important for families with children.
If it doesn't feel like home without the warm light from a gas stovetop in the kitchen, insist on the versatility and control of a gas-on-glass-ceramic hob. A gas cooktop is ideal for flame-roasting a pepper or cooking Asian food with a wok. (Since traditional woks made of carbon steel or cast iron are ferromagnetic, they are also perfect for induction cooking.)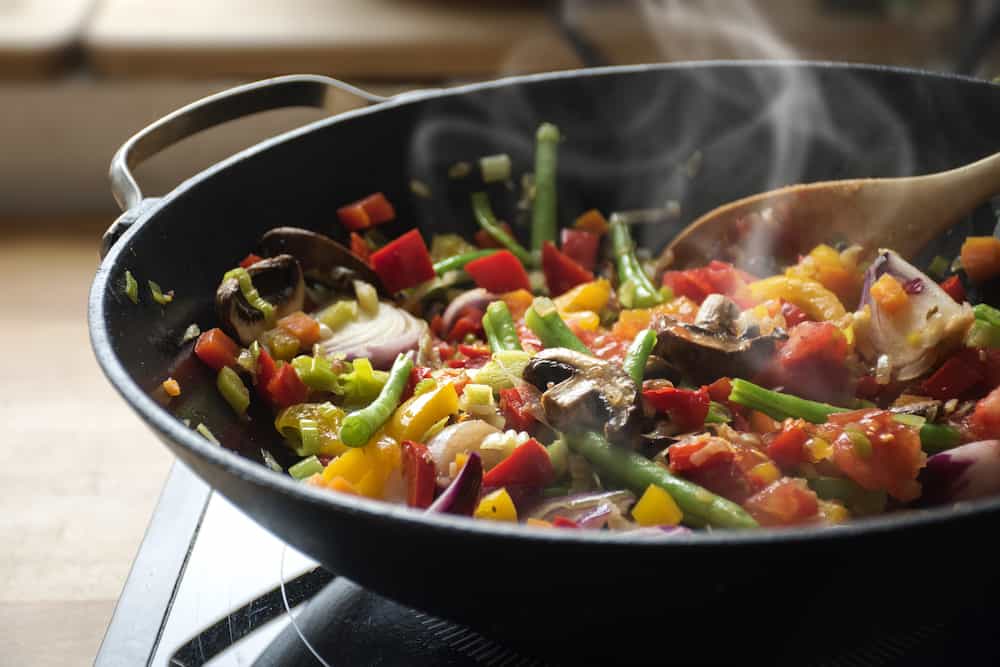 Gas or induction glass-ceramic cooktop: 3 key comparisons
Cleaning an induction or gas hob
A glass cooktop surface (gas, electric or induction) cleans up quickly and easily. There are no metal burners or burner pans to clean, unlike traditional stoves. Simply follow the cooktop cleaning basics and your glass-ceramic cooktop will look and perform well for years.
Gas-on-glass-ceramic cooktop cleaning: Clean the stainless steel or cast-iron burner grates that sit atop the glass-ceramic surface by washing them in hot, soapy water. Rinse with clean water, dry thoroughly and replace. An advantage of gas-on-glass cooktops vs. traditional gas hobs: the glass-ceramic surface and sealed burners help keep spills from entering the burner box.
Induction cooktop cleaning: The beauty of the induction cooking method is that only the pan is heated; any heat on the glass-ceramic surface cools down quickly so spills are less likely to stick. Avoid sliding your pots and pans across the cooktop surface (this can cause scratches), and cleanup will be quick and easy.
Gas OR induction cooktop cleaning: Burner control knobs can sometimes be removed for easy cleaning. Both the grates and control knobs may be dishwasher-safe; refer to the cooktop manufacturer's instructions for cleaning.
Energy usage and sustainability
Induction cooking starts with an electric current circulating through a coiled wire under the glass ceramic. Although electricity is the source, heat is generated by the magnetic property of steel instead of a flame or red-hot element, such as an electric coil.
Because the heat from a glass-ceramic induction hob is transferred directly to the cooking vessel, most of it (85 to 90 percent) stays in the pan. Less heat is emitted into the kitchen compared to traditional gas or electric stovetops, reducing the need to use the exhaust hood and air-conditioning.
A glass-ceramic gas cooktop uses a burner assembly attached to a gas valve that is connected to the main gas line. The valve opens when you start the stove, gas flows in and is combined with oxygen to make a combustible mixture. Gas burners work with either natural gas or propane.
Cooking on a glass-ceramic gas gives you precise temperature control. The visual cue of the glowing gas prompts you to reduce a pot of soup from a boil to a simmer just by lowering the flame.
While a gas cooktop is less energy-efficient than an induction cooktop (a higher percentage of the heat generated by a gas cooktop can escape into the air around the pan), both allow you to save energy by stopping and starting heating immediately.
Which cooking method costs less and saves more energy? The answer is complicated. Prices for both electricity and gas vary by country and locality. The availability of showroom models and inventory also differs from region to region. You will also want to consider the higher up-front cost of an induction cooktop and the need for ferromagnetic cooking utensils.
A recent article published in Scientific American states that focusing on cooking methods is actually not the best way to save electricity, as cooking appliances are generally not a major energy end-use in U.S. homes. (Cooktops, stoves and ovens are not labeled by the U.S. Dept. of Energy's Energy StarⓇ program.)
Induction or gas: which cooking method is most popular?
It's a legitimate question. People are curious about what's new and what works, in both high-end and modest home kitchens. Research shows a global surge in kitchen appliance replacements, along with other developments:
Cooking is becoming a social trend
Increased awareness of technology advances and "smart" equipment
Improved kitchen appliance aesthetics
In the cooktops and cooking ranges market, gas cooktops and ranges are anticipated to contribute almost 45% of the global revenue by 2024.
Induction cooktops are expected to witness the fastest growth rate. The induction cooktop market has taken off in recent years. The popularity of health-conscious cooking methods, as well as energy-efficient and time-saving cooking appliances are contributing to the increase.
Globally, France has the largest share of household glass-ceramic induction cooktops in Europe, with Japan leading the Asia-Pacific region. The market is also growing in countries such as India, China and Australia.
Clearly, a number of factors will influence your decision to purchase a glass-ceramic gas or induction cooktop. To learn more about EuroKera glass ceramic, the pros and cons of different cooking methods, or for design inspiration, we invite you to explore our website or contact us for more information.