Many of the world's top chefs are induction cooking enthusiasts. Surprised? Professional cooks known for their mastery of the gas flame are adopting glass-ceramic induction cooktops, and not only because they are considered the environmentally friendly alternative to electric or gas stoves.
"Powerful, immediate, precise, effective, practical – here in a few words are the qualities of induction," says Author/Chef Thierry Molinengo of the Cristal Room Baccarat restaurant in Paris.
"I love our big induction range – I'd never go back to gas," declares James Ramsden, food writer and co-proprietor of the Michelin-starred East London restaurant Pidgin.
Ramsden says amateur cooks can create culinary wonders even on a smaller induction hob. "Once you get the hang of them, they're far easier than cooking on gas or electric."
Chefs love induction cooking because of the extremely fast heating and precise heat control provided through a high-performance glass-ceramic surface.
Also, induction technology warms the pan and not the surface or surrounding area, so very little heat escapes into the room. Keeping the temperature cool in the restaurant kitchen is a big benefit.
Renowned Australian Chef Neil Perry was one of the first to adopt induction hobs in his award-winning restaurants' kitchens, Rockpool Bar & Grill, Spice Temple and Rosetta. He talks about induction cooking in a GoodFood article.
"They're far easier to clean down after use, which is one of the main reasons we chose induction over gas. It's much faster to cook with induction: you can increase or drop the temperature far more quickly, which is a more efficient use of energy. Cutting energy use, when you don't need it, makes a huge difference in a commercial kitchen." says Neil Perry.
Alexandre Couillon is owner and Chef of Michelin-starred La Marine, a restaurant on Noirmoutier, an island off the west coast of France. He believes that the flexibility of cooking with induction "allows us to expand our creativity…Induction makes the quality of the products sublime."
Pro tips for cooking with induction
Induction is no more difficult to use than an electric or gas cooktop, once you're familiar with the controls and cooking times, according to Cassidy Olsen in an article for Reviewed. And you don't need to change as much as you may think.
Prepare all the ingredients before you start cooking. Cookware heats much faster on an induction cooktop than you're used to with traditional hobs, which means no down time (Chefs call it mise en place, a French term for the habit of making sure everything is in place and ready before you start cooking).
The wide heat range and precise temperatures on induction hobs allow you to make sauces and fancy confections that you may have thought were reserved for professional kitchens. Consistent simmering and making rapid changes in heat are no problem.
Cooking zones on induction cooktops can be combined to evenly heat oversized cookware. You can double or triple a recipe without making the same dish on two separate burners.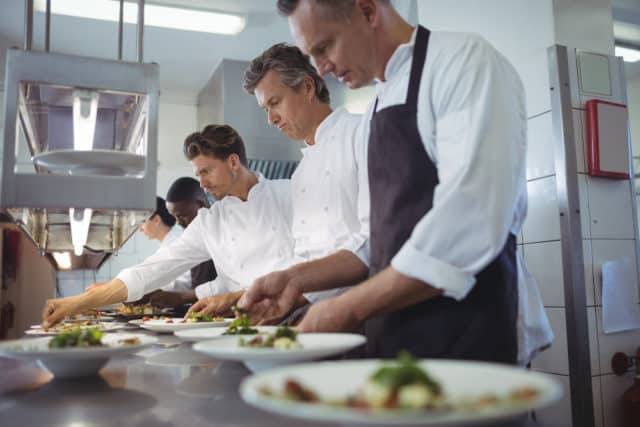 Five Chefs who say "Yes" to induction cooking
"I love, love, love the induction technology," says Rick Bayless, winner of Bravo's Top Chef Masters, star of the Public Television show Mexico-One Plate at a Time, cookbook author and award-winning restaurant owner. He appears in a short video, Professional Chefs Love Cooking with Induction with award-winning chefs/restaurateurs Ming Tsai and Fabio Viviani.
"It's so much safer. I have kids, right, and you can literally touch everything around it [the cooking area on the cooktop]." says Chef Ming of induction cooking.
"And, you don't have to worry about the flame if you want to make stock overnight. It's safe," says Vancouver restaurant owner Angus An in Why Induction is the Hottest Trend to Hit Restaurant Kitchens. Restaurant service improves when cooking is more efficient. Chefs can increase the speed of service and keep stocks and sauces at a precise temperature. Water can be boiled in half the time.
Italian-born Chef Viviani, says, "When technology can help you achieve the same result – the same, old-fashioned school stuff – in a little less time, that's welcome." Viviani still prefers "live fire," but uses induction-compatible cookware so he can alternate between both cooking methods.
Eric Ripert, renowned master chef at Le Bernadin in New York and an award-winning TV personality, mentions the design and functionality of glass-ceramic induction cooktops on The Ultimate Chef's Kitchen, "It allows you to have a very flat area. Between the table and the induction, it's exactly the same height. So it's safe, aesthetically it's nice, and it's also very practical because you can move your pans on the side and put them back on the heat very quickly, so I like that very much. And it looks very clean and contemporary."
Chef Tim Spedding of acclaimed London restaurant/wine shop P Franco, made the move to induction hobs. He says they "are commonplace in most commercial kitchens because they provide a clean, efficient and versatile heat source with very low investment."
"For the home cook they're great [induction cooktops] because they are a fast and efficient heat source." – Tim Spedding
Glass-ceramic induction cooktops for home or commercial kitchens
In recent years, induction cooktop technology has taken major leaps forward while prices have fallen, enticing more chefs and home cooks to make the switch. You can find more affordably priced units now than in the past, making induction hobs comparable to the price of many other stovetops.
Induction cooktops make the grade for dependability, too. Obviously, a restaurant cooktop – whether it's gas, electric, or induction – has to be strong and resilient to handle heavy-duty cooking.
EuroKera's glass-ceramic cooktop panels for both home and commercial kitchens pass quality performance and safety tests that meet or exceed global standards (including those of hard-to-please chefs).
In the words of French Chef William Boquelet, one of the first users of induction cooktops, "a return to another mode of cooking is not possible."